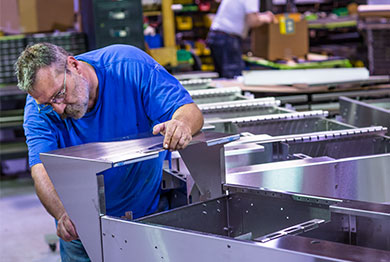 Assembly and Kitting
Reduce your lead times and costs with our product assembly services.
Ometek specializes in providing you with market-ready products. As part of that promise, we offer complete product assembly solutions that can save time and money and drive efficiencies for your business. We are constantly looking for innovative ways to assemble products quickly and accurately for easy builds at your facility.
Whether you have a one-off program or a volume program, talk to Ometek about how we can meet your product assembly needs.
Our product assembly capabilities include:
Complete Builds
From adding hardware to complete electronics integration.
Kitting
Ometek can manufacture and purchase all components of your final product and kit items for easy and convenient assembly on your line.
Internal Sub-Assembly Builds
Ometek supplies internal sub-assembly builds, adding wire harnesses, kits, and copper installation to meet your requirements.
Private Label Packaging
Beyond building your product, we can package it for you, per your packaging specifications. We make sure everything is ready to ship to your customers.