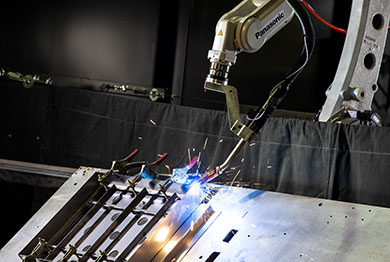 Welding
Get precision solutions for all your welding requirements.
 From manual welding completed by our team of trained and certified welders, to advanced robotic welding using the latest equipment, Ometek is your one-stop source for all your welding needs.
All welders on our team are certified to AWS-D1.1, and our welding operation is ISO 9001:2008 certified. We combine our expertise and training with the latest equipment to weld all materials, parts, and sizes, from the smallest parts to the largest enclosures. We offer adjustable jigs for cabinet welding. And we make our own fixtures in house, offering flexible, modular fixturing for accurate and consistent assembly.
Our team has extensive experience welding a variety of materials, including
Stainless Steel
Mild Steel
Aluminum
Galvanized
No matter you welding needs, you can trust Ometek to continually invest in time-saving, advanced welding processes to increase efficiencies and reduce your costs. For more information about our welding expertise, talk to Ometek today.
Our welding capabilities include:
TIG and MIG Welding
Ometek offers vast experience with all materials ranging from thin gauge sheet to thicker plate. Our certified welders have the necessary experience to handle any job.
Spot Welding
We offer multiple spot welding stations with the ability to handle a wide variety of materials and thicknesses. Our spot welding technology allows for consistency and repeatability in your parts and components.
Robotic Welding
Highly-productive robotic welding capabilities allow Ometek to offer cost-efficient solutions to your complex weldments and high-run jobs. Our robotic weld cell features dual indexing stations to enable maximum throughput and minimize downtime.