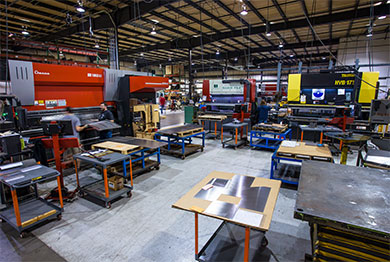 Facilities and Equipment
Ometek's 100,000 square foot plant in Columbus, Ohio, is designed to handle virtually every process required for quality metal fabrication. We have a wide range of processing capacities under one roof allowing us to cut time and costs, while maintaining strict control over quality standards. We are constantly investing in new equipment to help our clients increase efficiency, reduce cost, and gain a competitive advantage. Our capabilities include laser and waterjet cutting, CNC Punching, CNC machining, forming, welding, polishing, blasting, and powder coating.
Fabrication
 PUNCH PRESSES
Amada Vipros 358 King CNC Turret Punch Press, 64 tool stations, 33 ton, Fanuc 04 P-C controller
Amada Vipros 368 King CNC Turret Punch Press, 64 tool stations, 33 ton, Fanuc 04 P-C controller
GENERAL FABRICATION EQUIPMENT
Falls Products Edge chamfering machine
Amada S1232 Hydraulic Swing
Penn Engineering PemSerter PS-100 Hardware Inserter with Modular Autofeed
[2] Haeger model 824WT-4He automated hardware insertion machines with dual
350 MAS modular auto-feeds, touch screen controls, and insert logic auto-picture load for visual operator assistance
(13) Haeger Hardware Inserters with manual controls
Amada CSHW-220 Corner and Radius Notcher
Amada SP-30CNC Single Station Punch Press
[2]Fladder-Aut edge de-burring machine, 39" wide
Weber Model TT1100 combination rotary brush and belt de-burring machine
Amerecon roller, 4', 10 gauge capacity
Wysong 10' hydraulic shear, straightening arm, back gauge, conveyor
[2]Togu 3 tool grinders
PRESS BRAKES
[2] Amada HD1003ATC Press Brake, 10' x 110 ton, 6 axis back gauge, bend indicator for precise angle compensation without test bending, and Automatic Tool Changing technology virtually eliminating operator interface with tools reducing time between parts to less than 3 minutes
[2]Toyokoki HYB1253-WinnII, 10' x 137 ton / Toyokoki HYB1753 – 10' x 193 ton / [2]Toyokoki HYB8525 WinnII, 10'x 93 ton. All brakes are servo-hydraulic, PC Windows based controller supporting off-line programming and 3D model utilization and bend simulation, 5 axis CNC back gauge, auto-crowning, Wilson hydraulic tool clamping [upper and lower – allowing quick tool change], Wilson common shut height tooling [allowing stage bending]
Amada RG100 Press Brake, 10' x 100 ton, NC9EX CNC back gauging
Amada RG100S Press Brake, 8' x 100 ton, NC9EX CNC back gauging
[2]Amada RG50 Press Brake, 78″ x 50 ton, NC9EX CNC back gauging
Amada RG35 Press Brake, 4' x 35 ton, NC9EX CNC back gauging
Amada RG 80 Press Brake, 8'x 80 ton, NC9EX CNC back gauging
Amada SPH60 Press Brake, 3' x 60 ton
RAS 74.30 folder, 12', 10' back gauge, NB9000 Control
PROFILE CUTTING SYSTEMS
Amada FO3015 laser, 4Kw resonator, 5' x 10' sheet size, Includes dual shuttle tables for quick sheet change. Capacity to 1" mild steel.
Amada FOM2RI 3015 laser, 4Kw resonator, with integrated Rotary Index for laser cutting tube [round, square, rectangle], channel, and angle with 8.66" chuck. Converts back to cut flat sheet up to 5' x 10'. Includes dual shuttles table for quick sheet changes.
30 shelf Amada AMS [Automated Material Storage] system that will be integrated with both the FO 3015 and FOM2RI 3015 lasers. Each shelf can handle 5' x 10' sheets with a capacity 4400 pounds. Will allow "lights out" processing on both lasers
Flow waterjet system, 6' x 12', 87000PSI, advanced articulating cutting head for higher cutting speeds while maintaining minimum taper. Capable of cutting virtually any material up to 8" thick. Includes nesting software for optimized material utilization.
Amada LC2012 C-1 NT High Speed Punch / Laser combination machine with 2500 watt laser, 22 ton servo-electric punch, MP auto-sheet loader, PRC-1 part unloader and conveyor system, with 4 station tapping capability.
COPPER BUS BAR CELL
[2] EHRT Holecut-40-6 CNC punching lines capable of processing 8" wide X 1/2″ thick copper bar.[NOTE: For geometries or configurations not matching the capability of the EHRT punch, the water jet and turrets will be utilized to provide the part profile.
EHRT EB-40 CNC Bending machine capable of processing 8" wide bar with bend accuracy to ¼ of a degree.
JFYMC40 CNC Punching line capable of processing 8"wide X ½" thick copper bar, with Fanuc control
Auto Sert hardware inserter. Equipped with bowls to automatically feed hardware for insertion.
The cell also consists of a conventional press brake to enable most parts to be fabricated compete within the cell.
Machining Department
VERTICAL MACHINING CENTERS
[2] HAAS "Mini Mill" Vertical Machining CenterS 16" x 12" x 10", 10 tool changer, 6K RPM spindle.
HAAS VF-6 Vertical Machining Center 64 x 32 x 24, 32 tool changer, 10K RPM spindle.
Kitamura Mycenter 3 Vertical Machining Center, travel range of 31″ x 19″ x 15″, 30 tool changer, Fanuc OM controller, 6K RPM spindle.
[2]Kitamura My Zero, 12"x10"x12", 16 tool changer, 8K RPM spindle.
Haas VF-3SS, 40"x 20" x24", 24 tool changer ,30 HP-12K RPM spindle, TR-160 trunnion  [4th and 5th axis milling].
Haas GR-510 gantry router, 60" x 120" x 12", 20 tool changer, 10K RPM spindle
Haas VF-2SSYT, 30"x 20"x20", 24 tool changer, 30HP-12K RPM spindle, with 4th and 5th axis drives [trunnion ready].
HORIZONTAL MACHINING CENTERS
Mycenter H400 Horizontal Machining Center, travel range of 24″ x 20″ x 20″, 100 tool capacity changer, 10K RPM spindle, Fanuc 15M controller.
Haas EC400 Horizontal Machining Center w\Pallet Changer, 20"x 20" x 20", 40 tool changer , 30 HP-12K RPM spindle, with full 4thaxis milling.
TURNING CENTERS
Dainichi F25 Flash Turn Turning Center, Fanuc OTC control, chip conveyer, automatic tool setter, parts catcher, 7″ swing, 21″ tool travel, 3K RPM spindle, Space Saver 2000 automatic bar feeder.
Ikegai TUR-30 3-axis CNC Mill-Turn, 19-11/16" Swing, 40-5/32" Tool Travel, 12 Station Turret w/Live tooling capability, 2.5K RPM spindle, automatic tool setter, Fanuc 18T control.
Haas SL30 CNC turning center with 3" servo bar feed, maximum turn diameter of 14.5", 25 to 3.4K RPM 30 HP spindle, 11.3" X travel and 34" Z travel.
 SAWS
Hydmech Model H-14A automatic horizontal band saw with 14" by 14" capacity.
Dake-Johnson V-24 Vertical Band Saw, 24″ deep throat x 12″ thickness capacity, Auto-feed.
Kaltenbach SKL 450E Semi-automatic Circular sawing machine, straight or miter cutting, aluminum and other non-ferrous material, 6400 to 12800 RPM blade speed, 17.72" blade diameter, with 16' Tiger stop positioning system.
Kalamazoo FS 350SA vertical saw with manual stop.
IBE Equipment 350 Precision Non-Ferrous Cut-off Saw, 6″ x 6″ capacity.
GENERAL MACHINING
Clausing 4 spindle drill press with tapping heads.
[3] Flex Arm Drilling and Tapping Machines.
[2] Bridgeport Series I Milling Machines, 9″ x 42″ tables, Prototrak CNC conversational controls.
Millport 1840 Gap Bed Lathe, 10″ swing, 4' tool travel.
[8] Various size Drill Presses.
Equiptop Automatic Surface Grinder, 12″ x 42″ magnetic chuck.
Various disc and belt sanders.
Royson Vibratory Finishing Machine, 6 cubic ft capacity.
Ultramatic Vibratory Finishing Machine, 3 cubic ft capacity.
Burrbench Vibratory Finishing Machine, 1 cubic ft capacity.
Rigid Pipe Threader.
Welding Department
ROBOTIC WELDING
ABB Model IRB 1400 6 Axis Robotic Welding System with Orbit IRBP 250 RAC Servo Positioning System.
Motoman Arcworld 6200 Duel 6 Axis Robotic Welding System with 2-Sided Servo Positioner.
 SPOT WELDING / STUD WELDING
Amada Spot Welder ID40ST Micro Computer Controlled Spot Welding System 80KVA 30,000 Welding Amps.
Sciaky 75 kva Computer Controlled Pneumatic Spot Welder, 36″ deep throat, Interlok302 control.
Southern Studweld CNC Automatic Studweld System.
[5] OBO Bettermann Stud Weld Systems with manual guns, # 4 to ¼" capacity.
Nelson Stud Weld system with manual gun, 3/16" to 1/2" capacity.
AUTOMATED GRINDING
Kuhlmeyer BKK2 Cabinet Corner Grinding Machine w/ Dust Collector
WELDERS
[5] Miller Syncrowave 250 TIG Welders.
[5] MillerMatic 250 MP Programmable Computer Controlled MIG Welders.
[8] MillerMatic 250 Standard Mig Welders.
Miller 350MPa with XR control.
[3] Miller Delta weld with boom feeds.
(4) Precision Welding Tables, dedicated and modular style setup tooling.
(4) Precision Adjustable Welding Jigs Dedicated to Cabinet Welding.
WELD SUPPORT EQUIPMENT
[2] Demmeler precision weld fixture table [acorn table] 4' x 8' and a 3' x 6'with modular tooling/fixtures.
[3] Precision adjustable weld fixtures for specific families of parts. Can be custom configured for specific customer requirements.
Torit Trunkline Roll-Around FT-500 Welding Smoke Collector.
(2) Micro Air Roll-Around Welding Smoke Collector.
(2) Airlux 3000 Portable Welding Smoke Collector.
Harris 8525-C Oxygen/Acetylene Torch Outfit, braze, solder, cutoff.
MBA Model Power Peen 4848 – 48" cube sand blast booth
[3] Mini Max line [stroke] sanders – 2 large capacity 96" long x 35" wide x 23" high and 1 small capacity 65" x 30" x 20" high.
10'W x 10'H x 15'Media blast booth with reclaim and virgin media capability for powder prep, or providing a matte / blasted finish on stainless steel.
Wire Processing
 WIRE BENDER
AIM AccuForm model AFM-3D1-T CNC wire bender. It is capable of bending formed or round wire into complex three dimensional forms via SmartEditor software. Depending on tooling, the bender can process wire from.062" to .350" in diameter.
Finishing Department
IN-LINE POWDER COATING
The in-line powder coating system with the capacity to powder coat and cure a part that is 40" wide, 60" tall, and 89" long. Narrow parts of up to 10'6"  in length can be processed.
5 Stage stainless steel, insulated, heated pretreatment system [wash, rinse, iron phosphate, rinse, non-chrome seal]
450' of enclosed track conveyor with adjustable drive and automatic lubrication and cleaning system.
GAT convection cure oven with dry-off section and triple pass cure, 2.5 MBTU burner capable of processing 4000#s of material per hour.
Ionetc 1615 MPB powder booth with three spray positions, variable drive 8000 CFM air handler, cartridge filter system with auto-pulse cleaning, quick change color cartridge collector.
[2] Nordson "Surecoat" manual electrostatic spray guns with box feed and electronic controls to improve coverage even in corners.
[2]Wagner EPG 2007 electrostatic powder guns, vibrating platform for back-up.
BATCH POWDER COATING SYSTEMS
Rapid Engineering manual Pre-treatment system with spray island.
Powder X Cure oven, 8' x 8' x 20' long, 750,000 BTUH burner capable of 500 degrees F
Reliant Specialty manual spray booth, 10' x 10' x 15'long
Eurotec electrostatic manual spray gun with box feed.
Small parts batch system – includes a 3'x 2' stand-up booth, a Wagner Cup Gun, and a 9 ft3 electric cure oven.
SCREEN PRINTING
40" X 48" and 36" X 36" manual screen print tables with 45" micro registration screen clamps
Atma AT-C100M semi-automatic screen coater
44" X 54" Douthitt vacuum exposure table with Olite AL 15 Metal Halide exposure lamp and Olix AI121 light integrator [capable of burning screens to 36" X 44"]
72" X 48" semi-automatic screen stretcher table
Harco IR conveyor oven 24" wide x 11' long x 10"for curing ink
Cincinnati conveyor oven, 48" wide x 16'long x 6"tall for curing ink
40" X 62" light table for inspection of screens
Quality Assurance
MECHANICAL VERIFCATION EQUIPMENT
Sheffield Cordax RS70 DCC CMM – 40" x 50" x 40", and a Cordax RS50DCC CMM – 40" x 40" x 40", both with Renishaw AR1probe changer, PH10 head, PH7 probe. CMM manager software with reverse engineering capabilities as well as automated scanning.
Virtek Laser scanning system – 48" x 48" scan surface for verification of all flats prior to production. Also has reverse engineering capability.
Z-mike 1220 laser micrometer with 2" diameter capability. Utilized for tight tolerance measurements as well as calibration of pin gages.
Federal Pocket-surf hand held surface finish measurement device
All required hand held measurement equipment including calipers [up to 72" in length], inside and outside mics [up to 24"], height gages, thread gages, pin gages, etc. Most are digital with full metric or English readout capability.
POWDER / PLATING RELATED EQUIPMENT
Datacolor Microflash spectrophotometer for color measurement including software to store standards data.
Powder verification equipment – can perform impact, mandrel bend, scrape adhesion tests to applicable ASTM standards.
Tricor Systems gloss measurement meter
[3]Elcometer Model 345 coating thickness gages
FischerScope Model 750C-N2 coating thickness measurement system
DeFlescko Positector 6000 ultrasonic thickness gauge
PACKING/SHIPPING CAPABILITIES
Capable of providing bar code labels in the most common formats to enhance your receiving functions
C-Roc CNC box making machine capable of making custom sized boxes [up to 84" wide] of all types and styles enables us to custom fit boxes for improved protection and reduced material consumption.