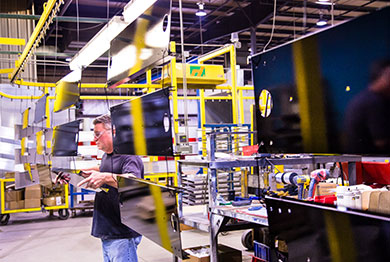 Finishing
Get parts and products that look as good as they work.
Function isn't everything. Your precision metal parts and finished products have to look great, too. So Ometek doesn't stop at fabrication and machining services. As your one trusted partner, we offer comprehensive finishing capabilities to complete your parts and deliver market-ready products that are as attractive as they are structurally superior.
As with everything else we do, we invest in the latest technology to bring you finishing services that meet your specifications while saving you time and money. Talk to Ometek to learn more about our finishing expertise.
Our finishing capabilities include:
Powder Coating
Our powder booth contains three spray positions, a variable drive air handler, and a filter system with auto pulse cleaning and a quick change color cartridge collector. Our electrostatic spray guns, with box feed and electronic controls, allow us to cover even the most intricate corners. Ometek's five stage wash system ensures a flawless finish of your specified powder coat.
We offer powder coating for virtually any size part. Our in-line coating system can accommodate parts up to 4' x 5' x 8', as well as narrow parts up to 10.5' in length.
Our Batch Powder Coating System can accommodate 10'x10'x15' enclosures. Our flow process allows for rapid pre-treatment, coating, and curing in our cure oven.
Blasting
Our facility features a 10' W x 10' H x 15' L media blast both equipped with a media reclaim system. The booth is outfitted with two pots that allow for quick changeover from reclaim to virgin media. It is capable of utilizing multiple media types including aluminum oxide, garnet, glass bead, and walnut shells. These capabilities allow Ometek to offer a wide variety of processing options including removing previous finishes, preparation for powder coating, and providing several types of finishes on stainless steel from weld burn removal to complete matte/blasted finishes.
Screen Printing
Finish your part or product with your logo, tagline, or any other design or verbiage of your choice. We can screen virtually any product on our screen print tables and can accommodate one, two, or three color logos. Need help designing your color scheme and screen? Just ask. We design and burn our own one-color and multi-color screens in house, up to 36" x 44".
Deburring, Polishing, and Graining
For perfectly smooth edges and a uniform, attractive finish on your fabricated sheet metal parts, Ometek offers a fleet of high-end finishing equipment, including the Fladder Deburring system. We can custom grain stainless steel to a specified mill finish or even a pattern finish to meet your unique needs.