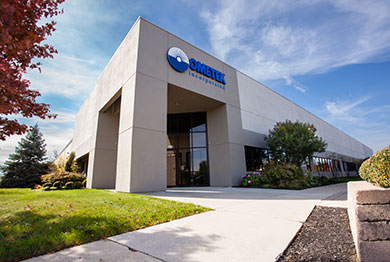 Employment Opportunities
Ometek, Inc. is a precision metal fabrication and machining company serving various industries including technology, power, food, and medical. We continue to grow and are in search of qualified individuals to work in our forward thinking, safe, and clean environment.  We are always in search of new associates to add to our team. Ometek is a substance free, equal opportunity employer that provides competitive wage and benefit packages to our employees.Below you will find a listing of all current job openings:
Welder:  Full Time/ First Shift (Mon-Fri 7:00 a.m. – 3:30 p.m.)
REQUIREMENTS: TIG Welding experience: Minimum of  2 years
Weld test / print test and interview required.
Proven ability to read and interpret drawings and weld symbols.
Proven proficiency and demonstrated skill in both TIG + MIG welding with a variety of metals; particularly Stainless down to 20 ga. ( Average ga is 14-16.) and some Aluminum.
Willing and able to grind and polish, stud and spot weld as required.
EDUCATION: High school or equivalent  // Welding school training helpful
Familiarity with ISO procedures /quality standards is beneficial.
Must have your own helmet and tools.
 
Press Brake Operator: Full Time / First Shift (Mon – Friday 7:00 a.m. – 3:30 p.m.)
Press Brake Operator Full Time/ Second Shift:  (Mon – Friday 3:30 p.m. – 2:00 a.m.)
*Training on first shift Mon-Fri 7a-3:30p
REQUIREMENTS: Minimum of 2 years setup AND operation experience.
Ability to perform own set ups and operate our 85 – 175 ton CNC Amada + Toyokoki  Brakes (cannot be merely operators)
Top notch print reading and interpretation skills.
Ability to work within tolerances of + .005 and ½ degree.
Able to accurately measure and record results of part dimensions + characteristics using calipers and mics.
Ability to adjust offsets.
Demonstrated detail orientation.
Work well independently and on a team in Job Shop environment.
Ability to follow and retain instructions.
Familiarity with ISO procedures /quality standards is beneficial.
Competitive and negotiable based on your skill level, experience and test results. Begin at $16.50/hr.
Shift includes 2 paid 10 minute breaks and one ½ hour unpaid meal time.
Full complement of benefits offered after 60 day full time qualification period is met.
Applicants screened // Tobacco Free Facility and Property
Substance Free // EOE // Safe Shop //
Please contact our Human Resources manager Tamara Hallas regarding all open positions.
614-861-6729 ext 2114