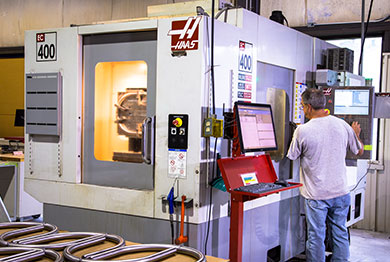 Precision Machining
From simple parts to intricate designs, we have the machining expertise to meet your needs.
Ometek specializes in precision machining, bringing together the technology, tools, and skilled machinists necessary to efficiently and cost-effectively machine your part to your exact specifications. Our capabilities include CNC milling and turning, and we've invested in state-of-the-art technology, including mills with a trunnion for five-access machining.
Ometek can provide precision machined components from a variety of materials, including:
Stainless Steel
Mild Steel
Copper
Brass
Aluminum
Delrin
Phenolic
Acrylic
Glastic
No matter your material, your volume, or your unique specifications, talk to Ometek about your precision machining needs. And let us create the parts you need.
Our precision machining capabilities include:
Vertical and Horizontal Milling
Ometek's vertical and horizontal CNC machining centers can machine the most intricate part to your specifications. Our machinery is equipped with tool changers and 5-axis rotaries allow us to machine more complex parts with no change-out.