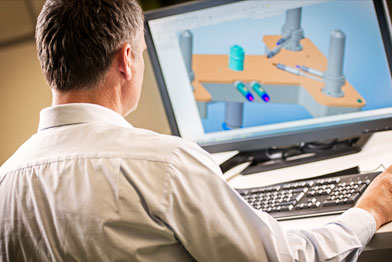 Engineering Support
Engineering for manufacturability gives you a better product.
At a better price.
Ometek goes beyond just expertise in sheet metal fabrication and precision machining to bring you start-to-finish mechanical engineering support. Whether you have a fully engineered component that needs a little fine turning, or a sketch on a napkin, we can tailor our services to provide the level of engineering support you need.
Our focus is always on helping you design your products efficiently. So you can feel confident that you're getting the most cost-effective parts, designed to your exact specifications, to perform exactly the way you need.
One-to-One Support for Every Phase of the Process
When you trust Ometek to fabricate or machine your custom metal parts, you benefit from a dedicated point of contact within our engineering group. Your Ometek design engineer is committed to your project's success, working to understand and effectively translate your requirements into the components and products your business needs.
We can partner with your in-house engineers to streamline the transition from design to production, minimizing any necessary revisions and resulting in lower overall production costs. Or we can act as your engineering design department, offering you access to high quality product design assistance and equipment to bring your product ideas to life.
We can also help evaluate any field failures and work toward solutions that can improve your products and help you better meet your customers' needs. However we work together, you can count on Ometek to support you at every step, from design through production and beyond.
The Ometek Process—3D Modeling Ensures Quality Parts
Ometek relies on 3D CAD modeling and programming, using advanced software and technology to ensure the final parts we produce meet your requirements. We import your solid model files to our SolidWorks software, which is then used directly through our CNC equipment to expedite production, reduce production costs, and improve accuracy.
We can accept many other CAD/Solid Model formats, including PRO E, Solid Edge, STEP, ACIS SAT, and IGES. Files converted from other CAD formats should be STEP solid for best results. For drawings, our software can support .dxf, .dwg., .plt and most PRO E versions. PDFs can be used in programming if there are no other formats available. PDFs along with solid model files are preferred in the quotation process.
By using the latest programming software, we can have your products to the manufacturing floor almost immediately.
To learn more about our engineering support services, talk to Ometek today.