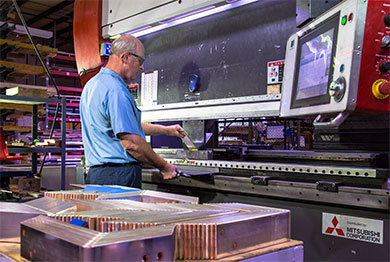 Copper Components
Take advantage of our state-of-the-art copper fabrication cell and CNC equipment for copper parts manufactured to your exact specifications.
Ometek provides a wide variety of components to the electrical and power industries. We stock copper bar, sheet, rod, and extruded shapes, and we offer a full array of in-house capabilities to meet your demand for custom fabricated copper components. Our wide array of equipment and capabilities allows us to support your needs for other power components as well, including insulators, standoffs, mounting panels, and barriers manufactured from a wide variety of materials.
Whatever your copper component needs, talk to Ometek, and let us put our copper fabrication equipment and expertise to work for you.
 Our copper fabrication capabilities include:
Punching
We employ three dedicated bus bar punching lines in our facility. These flexible machines are highly accurate and fast, allowing for efficient processing of copper bar. Our equipment can process bar up to .500" thick and 8.00" wide.
Machining
For more complex geometries, Ometek offers comprehensive precision machining capabilities for a wide range of materials including copper bar, rod, and extrusions. Learn more >
Water Jet Cutting
Faster. More affordable. More efficient. The benefits of water jet cutting are significant, making a real bottom-line impact for your business and offering you the ideal solution for cutting copper and other thick and non-ferrous metals. Ometek employs state-of-the-art water jet cutting equipment and software to cut any shape from virtually any material in a single step, reducing job time by hours while maximizing material usage and eliminating scrap.
Coating and Electroplating
Ometek has experience providing a wide array of different finishes. We offer silver, tin, and nickel plating for aluminum and copper bus bars. Epoxy powder coating services are available for OEMs in need of insulated copper components. Epoxy coatings are highly durable and offer a proven solution for protecting electrical systems and components.
Assembly
Ometek provides turnkey solutions for your power components. From subassemblies and kitting to higher-level product builds, Ometek can support your needs. We assemble standoff insulators, GPO-3 mounting panels, bus bar supports, and barriers, and we offer electromechanical integration services. Learn more >