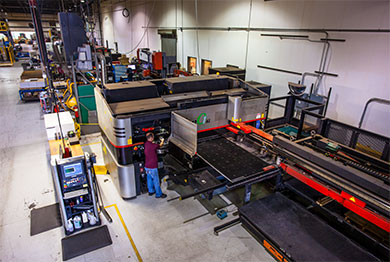 Sheet Metal Fabrication
Trust us to make your part, on your schedule, for your budget.
At Ometek, we got our start by responding to manufacturers' needs for custom machined and fabricated parts. Since then, we've built an impressive arsenal of state-of-the-art equipment, honed the technical skills, and perfected the processes necessary to fabricate components from a wide variety of materials for an extensive range of industries and applications. By continually investing in automation and a wide range of cutting-edge technologies, we offer the flexibility and the capacity to meet your needs and fabricate your unique parts in the quickest and most cost-effective manner, while consistently delivering the quality you demand.
Whether you have a one-off program or a high-volume program, talk to Ometek about your sheet metal fabrication needs. And let us provide the processes, the expertise, and the service to meet your exact specifications and ensure your complete satisfaction.
Our end-to-end sheet metal fabrication services include:

Laser Cutting
With a 30-shelf automated storage system integrated with the latest laser technology, Ometek can offer you 24-hour, lights-out laser cutting capabilities to quickly meet your demand. We offer high-speed processing of thin and thick aluminum, mild steel, and stainless steel.
Tube Laser Cutting
Ometek offers a rotary index for laser cutting tubing, giving you an efficient and cost-effective alternative.  We offer the ability to cut round, square, rectangular tube, channel and angle with an 8.66" chuck.
Water Jet Cutting
The benefits of water jet cutting are significant, making a real bottom-line impact for your business and offering you the ideal solution for cutting thick and non-ferrous metals. Ometek employs state-of-the-art water jet cutting equipment and software to cut any shape from virtually any material in a single step, reducing job time by hours while maximizing material usage and eliminating scrap.
CNC Punching
Ometek offers a number of CNC punch presses to meet all your metal forming needs. We can louver, perforate, emboss, lance, and produce a variety of other forms to efficiently, cost-effectively, and flexibly customize your parts.
CNC Press Brake Forming
Ometek is committed to investing in state-of-the-art technology in metal forming and bending. We have the capacity to quickly and efficiently handle all of your metal bending and forming needs, delivering the quality you demand within your timeframe and budget.
Hardware Insertion
Ometek uses Haeger and Pemserter insertion machines with automatic feeders to quickly and reliably insert hardware into your fabricated sheet metal parts, delivering quality, customized parts exactly as you need them.
Deburring, Polishing, and Graining
For perfectly smooth edges and a uniform, attractive finish on your fabricated sheet metal parts, Ometek offers a fleet of high-end finishing equipment, including the Fladder Deburring system. We give you the high-quality, high-performing components and assemblies you need; and we make sure they look the part.